Tags
Alexis Bittar, autumn winter 2012, celebrity, dodo label, extinctions, Eyebobs, fashion, gwen stefani, handbag, HSN, iris apfel, L & Lueng Design Group, lambs wool, lisa nunziata, MAC, mischa barton, october 2012, snakeskin, women's wear daily
From Gwen Stefani to Mischa Barton, every celebrity worth their fashion credentials has their own handbag line these days and influencing their hoards of fans with their own particular look. But style icon and self-proclaimed 'geriatric starlet' Iris Apfel is topping off her own fashion empire with her new collection 'Extinctions'.
The infamous style icon already has a bulging fashion résumé but is adding her new line of 12 handbags on top of her jewellery collections for HSN, Yoox.com and Alexis Bittar, the MAC collection inspired by her and eyewear for Eyebobs.
The fashionable nonagenarian has made her collection of 12 handbags in 5 different vivid colours and is retailing them at a very affordable $228-$398 in a range of fabrics from snake skin to Mongolian lamb. Apfel said in an interview with Women's Wear Daily, "I'm a colour person. I've never been known to play it safe. Plus I like big bags. My eyeglasses are so big they don't fit into smaller bags." The collection's colours have reflected in Apfel's other collections, especially her MAC collaboration that featured bright reds, teals and pinks, proving Iris Apfel isn't afraid of colour, and causing a stir while wearing it.
But we can only ask, how successful will these Iris Apfel handbags become? When people buy a Mischa Barton bag or Gwen Stefani, they aren't just buying a handbag; they're investing in a piece of the designers style and influence and as a 90-year-old woman, I'm not completely sure that she has the current fashion status that it takes to sells handbags. Collections like her MAC makeup line and jewellery for HSN are timeless, but with the ever-changing fashion industry, a bag has to be a current and must-have item, can Iris Apfel cater to that?
However Apfel seems to be able to make fun of the fact that she is older than most other designers through the line itself. Hitting stores in October, each bag in the 'Extinctions' line has a label shaped like a dodo attached but apparently it wasn't her first choice of symbol. In her interview with WWD, it was revealed that 'at first, they looked into the image of a dinosaur but it was "unsightly," Apfel said, so they settled on a dodo bird'.
As for the collection being called Extinctions, Apfel's business partner, Lisa Nunziata, president of L & Lueng Design Group, told WWD, "When I met Iris, I told her I'm the last of a dying breed, and she shot back, 'If you're the end of a dying breed, then I must be extinct,'". 'Extinction' was then born, with the dodo ("An odd bird, like me" says Apfel) as their logo.
We will soon see how the collection will fare in the fast pace of the fashion market but can only hope that the current fashion trends will turn around so sales may improve.  A woman who likes massive bags, Apfel has designed all 12 bags around her style choices but as the current trends are idolising the clutch bag at the smaller the better and the Autumn/Winter 2012 collections are showing a more structured bag, will these Extinctions totes be too big for the market?
Even if totes comes back into the foreground of the fashion stratosphere, who's to say that Iris Apfel's 'Extinctions' collection will appeal to the mass market. Apfel is known for her love of colour through all her work but with most buyers, muted totes are the buy of choice for their versatility and simple transition into ones wardrobe. 'Extinctions' is the opposite of muted, in fact, daring could be an understatement. With handbags that are huge and vivid in colour and more reminiscent of a Muppets character than a bag, Apfel and Nunziata are playing a bold hand releasing a line like this in the Autumn/Winter season when dark, accessible colours are on the rise and structured satchels and clutches are here to stay.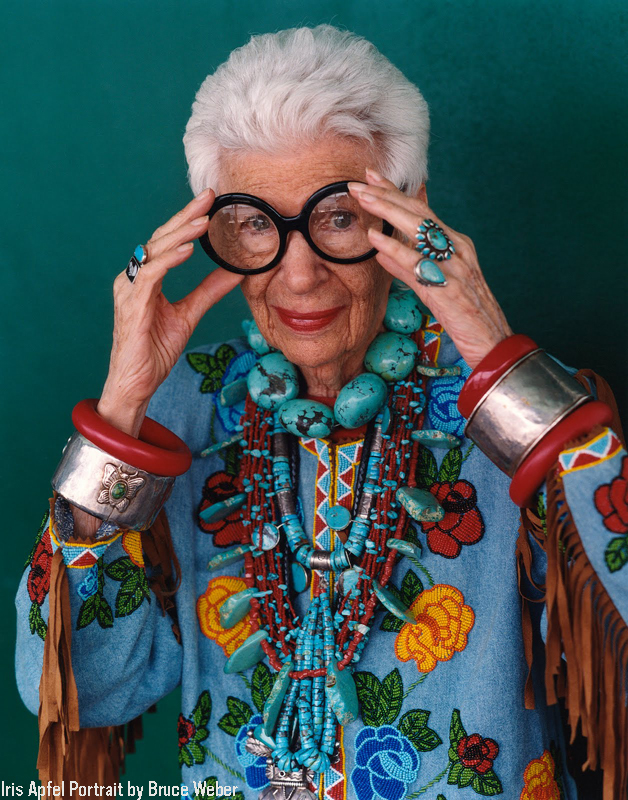 It will be interesting to see how the 'Extinctions' line sells when it hit stores in October of this year and whether they will buy flying off the shelves or not. Iris Apfel's legacy has been firmly cemented into the halls of fashion fame but I wonder, is her appeal strong enough for the mass market where items like handbags are being advertised to a younger and younger audience all the time? So come October, we'll find out if Iris Apfel's collection will be to die for, or fit for 'extinction'.