Apologies for not posting in the last two weeks, our inter-railing trip has also turned into the quest for decent wifi….a.k.a., there is none and I haven't been able to check my emails, let alone write a post! I've got so much news and so little at the same time. We've been to Vienna, Oswiecim, Krakow, Prague, Munich, Venice, Rome and Florence in the last eight days and its only now that I'm sitting down and taking a breather. Its 35 degrees here, I'm covered in insect bites and have a sunburnt foot…who said travelling wasn't fun! The fashion over here in these different countries are unbelievable, even if you're going to different cities in Italy, the style changes so dramatically. We're going to Milan tomorrow and I'm SO excited to see what the streets bring to me style-wise! I'll also be doing research for my next article for Linger on the differences in European street styles so Milan and Paris will certainly be getting a mention! Speaking of writing for Linger, my first article is up in the current issue HERE so anyone with a subscription can read it! Anyone who can't, I'll do my best to get a screenshot or a transcript for you! So that's enough of that, it looks like I have quite a few posts to get up tonight so we'll get on with the Scrumptious Sunday Seven for this sweltering week!
1. Vintage! We were in this fantastic little vintage shop in Prague that housed the designers we all know and love, like Chanel, Yves Saint Laurent and Louis Vuitton. We found it walking up a little side street and it was just amazing to go in and be in the presence of these beautiful old Chanel classic suits and 40′s heels. In LOVE!
2. In Rome, we walked down the most amazing and expensive street I have EVER been down (with the exception of Bond Street in London!). It had every designer you've ever heard of and some you haven't and I was in absolute awe at everything there! When I win the lottery or find a load of money somewhere I'll be coming back. Especially fell in love with these amazing studded biker boots…its my birthday soon…hint hint!
3. Grecian maxi-dresses. I saw a girl wearing one in Krakow and absolutely adored it. I've been on the hunt for one ever since, it was so beautiful! I don't know if I'm too short to wear maxi-dresses or not but a girl can dream!
4. I've bought some yellow nail polish in Budapest and I'm loving it on my travels. It's a proper bright yellow and makes any outfit look more fun. I can't wear yellow as a colour because I'm so pale but its fun being able to wear it and have it suit me! Neon is incredibly in this season so even if I do it through my nails, I'm happy!
5. Stripes. Taken to the extreme. This isn't exactly favourite fashion but this trio really made me smile up by the Colosseum when we were in Rome. Stripes are very in at all times, just fluctuating between stripe size. This lot aren't exactly down with the kids but this will brighten up your day! Remind you of anyone?
6. Graffiti. It's everywhere over here and I'm loving it. I'm one of these people who loves graffiti and sees it as an art form…as long as its good of course! Europe has graffiti everywhere and it really struck me how creative it was to put it on the metro trains! Reminds me of the Underground in London or the subway in New York.
7. And lastly, some travel related fashion photography, I love all these photos, I wish I looked this chic travelling but unfortunately, its hard to look fashionable when you have a crazy big backpack on your back, but I can just not look in the mirror and pretend I'm Kate Moss! These shots are beautiful and I'm hoping to make some of my own in the next couple of weeks!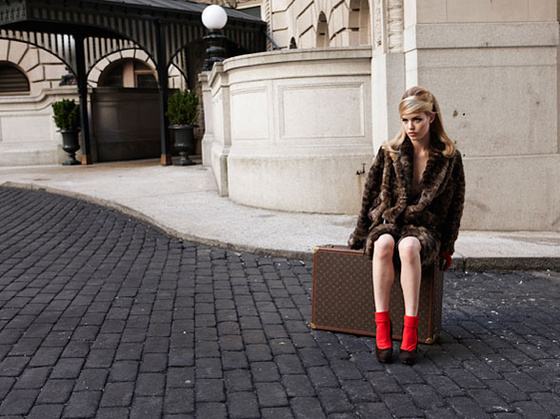 I hope everyone is having a great week and thanks for sticking with the blog while I'm in the wilderness guys, it means an awful lot that I'm getting so many views even though I'm being awful and not posting as much as I should! Love you guys!
Keep styling, Em x